grebot donnelly communicating excellence awards
Grebot Donnelly's prestigious Communicating Excellence Award is presented to the school that is judged to have taken on board the marketing advice and recommendations given as part of an ongoing communications strategy and, as a result, is seeing positive and sustainable outcomes.
2016 Winners
Southgate School

Grebot Donnelly are delighted to present the latest Communicating Excellence Award to Southgate School, Enfield in recognition of the fantastic outcomes they have achieved by successfully developing and implementing their marketing strategy. Since beginning repositioning work with Grebot Donnelly in 2015/16 Southgate's accomplishments include:
Increase in first choice preferences by 50%

Open evening attended by c3000 families

A popular and oversubscribed Sixth Form

SLT aware of the importance of marketing and what effective marketing tools look like

New website; repositioned as a high performing academic school
Southgate School's approach to marketing is now underpinned by research, which has helped them to understand and overcome considerable recruitment challenges and build mutually beneficial, long-lasting relationships with local primary schools.
Martin Lavelle, Headteacher, commented: "We are delighted to receive this award which I think reflects the hard work and learning curve undertaken by our staff. The successes mentioned are also due to the superb professional support that we have received from Isabella and her team and this award provides us with added motivation to continue to use an informed marketing approach to further future-proof our school and embed a long-term culture of success."
Isabella Donnelly, Managing Director, said: "The senior leaders have a clear vision and direction at this outstanding school and our job was to support the in-house marketing team to capture and communicate what makes Southgate unique and what it takes to be the school of choice in the area. They have an exciting future to share with current and future students, their families and the community – we wish them every success."
2015 Winners
Onslow St Audrey's School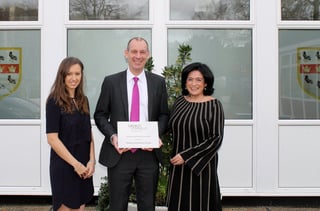 Grebot Donnelly has worked closely with Onslow St Audrey's for just over 12 months, and has seen the school achieve their key marketing objectives and can attest to the overall student numbers increase as follows:
32% increase in Year 7 applications due to targeted primary liaison strategy

34% increase in Sixth Form admissions

Increase in mid-year admissions

All equating to an additional revenue of approximately £600,000
The school has also achieved an upturn in measurably positive press coverage and improved engagement with primary schools, raising their profile in the local community.
Whitefield School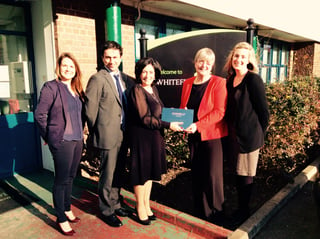 Grebot Donnelly awards the 2015 Communicating Excellence Award to Whitefield School in recognition of the progress they have made by embedding their marketing strategy and supporting a team to focus on primary liaison, resulting in:
A 50% increase in the number of students accepting places between April 2014 and April 2015 (an increase of 30 students).

Marked improvement in relationships with local primary schools, with the network of partner schools extended.

Positive results from a Maths SATs project with local Year 6 pupils, where 100% of the 20 pupils taking part secured a Level 6+ in their final exams, after starting with a baseline ranging from Level 4a to 5c.
2014 Winners
The Olympus Academy Trust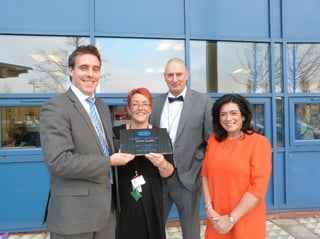 The Olympus Academy Trust (OAT) was presented with Grebot Donnelly's 2014 Communicating Excellence Award in recognition of their commitment to the ongoing celebration of their students' successes and positive communications with all their stakeholders throughout the year. In addition to this OAT reinforced the close partnerships they had with local primary schools and with members of their community. This paid significant dividends with both schools in the Trust now oversubscribed. This represents a key indicator of OAT's efforts to raise their profile and position Abbeywood and Bradley Stoke as schools of choice for parents and students in the local area.
2012 Winners
Jessop Primary School, Lambeth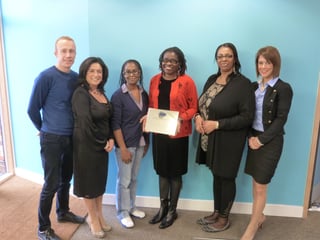 Grebot Donnelly 'Communicating Excellence' award 2012 was given to Jessop Primary School in Lambeth. Having worked closely with the school for just over 12 months, we saw them achieve their key marketing objectives and watched their overall pupil numbers increase by over 20%. Jessop was graded 'outstanding' by Ofsted earlier in the year, parents became actively engaged in the life of the school and there is now a natural progression from the on-site Children's Centre (also rated outstanding) to the school's successful nursery.
2011 Winners
North Birmingham Academy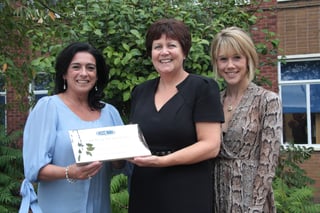 North Birmingham Academy award recognised their commitment to marketing and PR and the impact that their co-ordinated approach to communications had on their school's reputation. Grebot Donnelly started working with NBA in February 2010 prioritising reputation management and the engagement of internal and external communities. Working with, and simultaneously training, an academy-based marketing group, the following outcomes were achieved:
Attendance at open events increased by nearly a 1000%

In 2011, 1st choice preferences increased by 40% and 2nd choice preferences by 16%

In 2011, the majority of preferences are from pupils at local primary schools

In 2011, the Academy's Year 7 cohort is mainly made up of 1st and 2nd choice preferences.